PDM 4210 QAM Modulator
PDM4210 is a new generation QAM modulator with built-in multiplexer. It supports various QAM standards and multi-channel ASI, DS3, satellite stream input.

This product adopts unique and abundant function, flexible configuration and excellent performance. It is widely applicable to stream transmission of digital cable TV and MMDS system.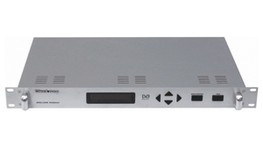 Main features

Fully conform to DVB standard,compatible with GB/T170-2001、GY/T106-1999、ETS/EN 300 429、ITU-T J.83(Annex A and B) standard


4 channel TS input (include 2 channel ASI、1 channel DS3/E3、1 channel satellite stream)、support MPTS/SPTS、188、204, automatically adjust the length


Build-in multiplexer,it can multiplex 4 channel inputted TS, filter program, shift PID, change program information, insert EGP etc


Re-generate various SI/PSI table such as PAT、PMT、SDT、TDT etc


Re-generate PCR, PCR jitter≤40ns


Support 4、16、32、64、128、256 QAM constellation


RF output center frequency :48~860MHz,Frequency step size:100KHz


RF output electric level: 100~110dBuV, Adjustment step:1dB


Support operation via web browser and front panel