EM200 Encoder
EM200 broadcasting-level encoder is a latest generation of encoder and multiplexer, fully conform to MPEG-2/DVB standard.

It can support encoding and multiplexing one channel video and four-channel audio signals simultaneously; be able to multiplex 2-channels TS stream external input and transmit digital/analog video and audio signals at the same time.

It has IP player's function. The encoder ensures the best quality of graphic and sound. It is suitable for transmit down or transmit back and professional telecommunication network. With various TS output interface and audio input interface, It is provide maximum flexibility for whole solution design. Based on we browser control, it is more convenience for unified network control and remote control. It is 1RU standard chassis, small size, light weight, steady and reliable performance.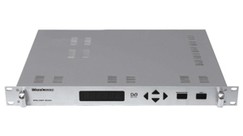 Fully conform to MPEG-2/DVB standard, broadcasting-grad graphic quality


Enabling to encode and multiplex 1 channel video and 4 channel audio signal as same time


Unique multiplexing function, it can multiplex 2 channel TS inputted from outside (ASI/DS3), it can multiplex SPTS and MPTS (enable to choose whole or a part of program TS


Web browser management function.


abundant input interface: CVBS S-VIDEO, SDI, analog balance/unbalance、AES/EBU


Abundant TS output interface:ASI, E3/DS3, N×E1, E2, RS449, V35, IP (optinal)


PCR jitter≤±40ns


Bit rate can be adjusted freely, High-performance of RS error-correcting coding


Input video format PAL, NTSC auto identify


PID number can be changed


Enabling to set program's name, supplier's name


Automatically generate PSI/SI information table


High reliable design, steady performance


High performance-coast ratio