SM600 DVB-S Demodulator
SM600 is a professional-grade satellite stream receiver and multiplexer. It integrated with 6 satellite receiving module, 1 multiplexer module, 2 ASI input module and 1 E3/DS3 output interface module in 1RU chassis.

It can receive simultaneously 6 satellite streams, support MPTS/SPTS and multiplex them with inputted ASI stream then output it through ASI or/and DS3 interface.

User can set or change all kind of parameter via front panel or web based browser. It is modular structure, high integration, high reliable performance and strong compatibility, easy to interconnect with other equipment. Especially suite to digitalize reform of CATV and whole transform from analog to digital platform.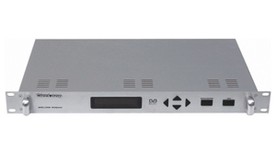 Main features

Fully conforms to MPEG-2/DVB standard


RF input with local loop out, RF-OUT, saves splitter, and convenience to cascade and test


Support 6 channel satellite program TS and 1 channel ASI multiplexing


Enabling to redefine PAT, PMT,PID and other SI/PSI information table


Enabling to re-generate PCR, correct PCR, filter empty packets in TS automatically


Modular structure, easy to upgrade and configure


Output TS interface :ASI×2, DS3/E3 (optional)


Enabling to connect with all kind of digital transmission equipment: SDH, PDH, digital microwave, QPSK and QAM modulator


Support most part of advanced CA system


Enabling to configure via front panel or web browser


High reliable design, steady performance


High performance cost ratio